Lingering Nous
July 6 - September 5, 2016
Centre Pompidou, Paris, France
Installation view of Lingering Nous, Centre Pompidou, Paris, France, 2016
Photo: Florian Kleinefenn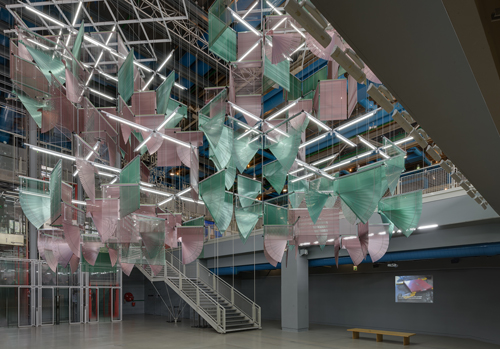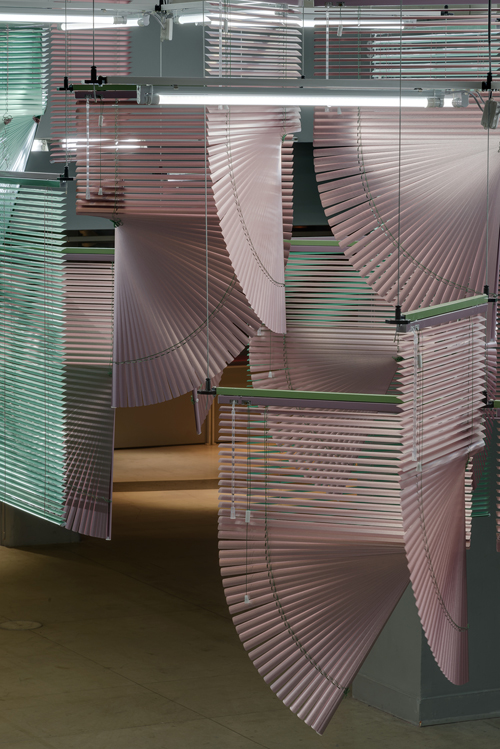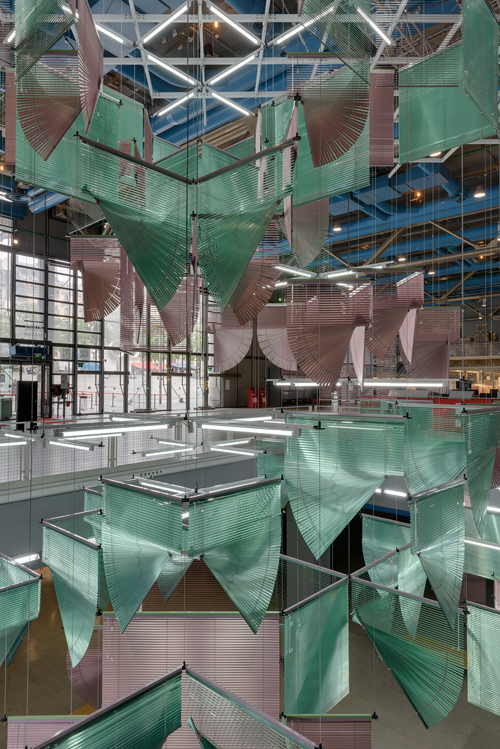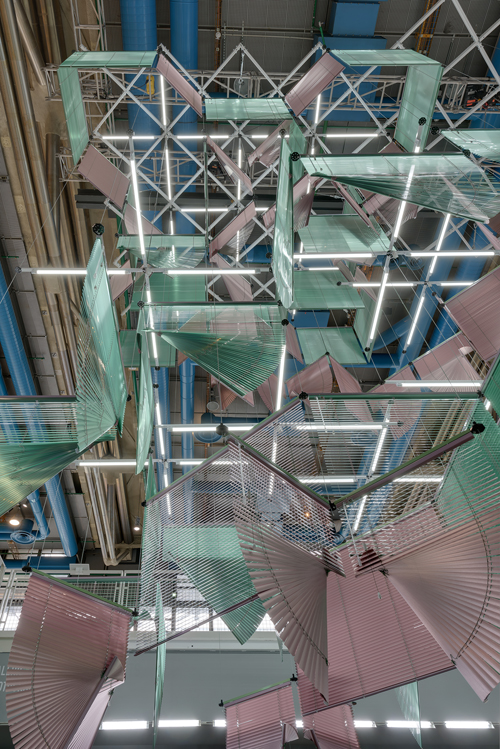 Press release
The Centre Pompidou is pleased to host a large-scale commissioned blind installation, Lingering Nous by Haegue Yang (Seoul, 1971) at the Forum. Known for her prolific and versatile mode of practice across various media, from paper collage to performative sculptures, Yang's artistic explorations stem from material-based concerns, accompanied by philosophical, emotionally charged, and idiosyncratic readings of historical events and figures.

The Forum, the site of Lingering Nous, is a unique physical and social space within the institution. Encompassing a vast volume spanning three levels of the lobby, it is also freely accessible to all. Lingering Nous engages with this total openness through Yang's handling of abstraction as an ending point, as, depending on one's viewpoint, it immerses within or emerges from the lobby's trench-like space.

Yang's blind installations, her most notable work category over the past decade, employ her signature material of Venetian blinds. Consisting of ca. 166 Venetian blinds in iridescent green and pink, Lingering Nous addresses the monumental nature of blind installations, while also unexpectedly featuring blinds installed askew. Calling upon the term "Nous," referred to as "thought" in Greek philosophy, yet with its potential and intuitive nature stressed by contemporary philosophers like G. Agamben, Yang suggests contemplating on the potentiality lingering in her work, as a not-yet-tinted form of abstraction.

Lingering Nous will continue with four video essays in level -1 of the Forum, namely Video Trilogy (2004-2006) and Doubles and Halves – Events with Nameless Neighbors (2009). Rooted in the intimate realities amidst our fleeting contemporary life, the videos' narrations endow a voice to the mute installation, offering additional access to Yang's work.

An Artist Talk with Haegue Yang will be held at the Centre Pompidou, on Friday, October 21st 2016, at 7pm, for the release of her book, Lingering Nous, co-published by Presses du réel. This publication will contain ca. 19 major blind installations, accompanied by an essay by Tom McDonough.
Exhibited works

Lingering Nous, 2016

Doubles and Halves – Events with Nameless Neighbors, 2009
Video Trilogy, 2004-2006 (Unfolding Places, 2004, Restrained Courage, 2004, Squandering Negative Spaces, 2006 )

Catalog