Quasi-Pagan Modern
August 26 – October 9, 2016
Galeries Lafayette, Paris, France

Installation view of Quasi-Pagan Modern, Galeries Lafayette, Paris, France, 2016
Photo: Thibaut Voisin – Galeries Lafayette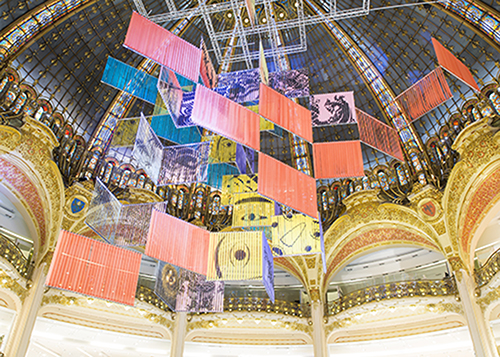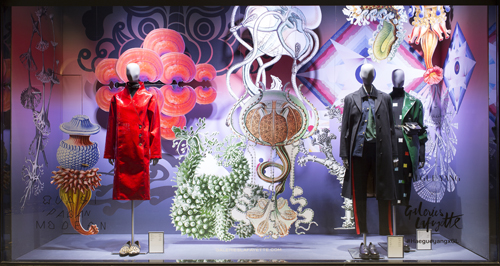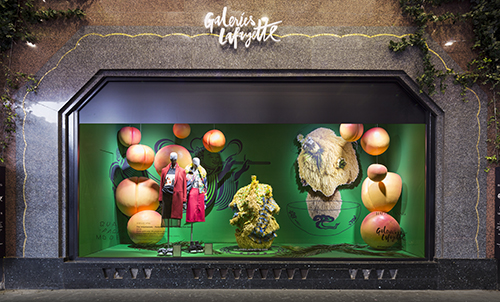 Installation view of Quasi-Pagan Modern, Galeries Lafayette, Paris, France, 2016
Photo: Florian Kleinefenn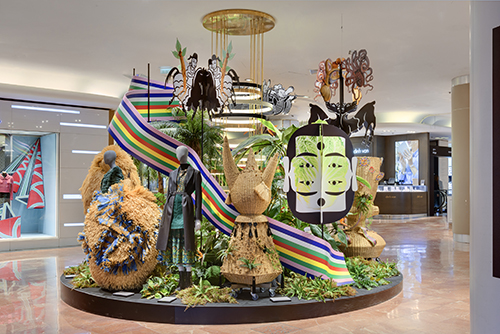 Installation view of Quasi-Pagan Modern, Galeries Lafayette, Paris, France, 2016
Video: Studio Haegue Yang, Florian Kleinefenn
Press release
The Galeries Lafayette celebrate the new Autumn-Winter 2016 collections, with a special guest, artist Haegue Yang from August 26 to October 9. Under the motto of Quasi-Pagan Modern Yang suggests hybrid motives, that dare to clash between notions, such as folk vs modern, real vs mystic or geometric vs organic. Her work will be displayed in the windows as well as under the dome of the famous store on Boulevard Haussmann.
Born in 1971 in Seoul, South Korea, Haegue Yang currently divides her time between Berlin and Seoul. Her work is striking in its originality and its complex juxtaposition of rigor and peculiar. It is based on the mirroring of civilizational references relating to social and political history and phenomena, as well as on a reinterpretation of archetypal forms from the avant-gardists, to produce a multifaceted contemporary expression.
Yang will unveil Quasi-Pagan Modern in all windows of the Boulevard Haussmann, filling them with creations of both iconic and quotidian that echo the new Autumn-Winter collections. Underneath the dome at the very heart of the main store, Haegue Yang attempts to work with printed verticals for the first time. And also for the first time ever, an original work by a contemporary artist will grace the Galeries Lafayette. For this special occasion unique shopping bags in an edition of 150,000 will be distributed to customers.
One of the artist's exclusive motif will be displayed in more than 400 windows of the 51 stores in the Galeries Lafayette chain during the same period all over France.


Exhibited works
Dome
Printed vertical blinds
Window Coupole, Main Store
The Intermediate – Tilted Bushy Lumpy Bumpy, 2016
The Intermediate – Narrating Solid Cloud I, 2016
The Intermediate – Narrating Solid Cloud II, 2016
The Intermediate – Running Squeezed Two-tone Fan Dance, 2016
The Intermediate – Tilted Bushy-head Junior, 2016
Porte Mogador
The Intermediate – Uninhibited Island in New Year Saekdong, 2016
The Intermediate – Long Neck Woman Upside Down , 2016
The Intermediate – Running Dragon King of the Sea, 2016
The Intermediate – Narrating Sea Squirt Alienage, 2016
The Intermediate – Ikebana Alienage, 2016