Chronotopic Traverses
October 13 – January 13, 2019
La Panacée -MO.CO, Montpellier, France

Installation view of Chronotopic Traverses, La Panacée-MO.CO, Montpellier, France, 2018
Photo: Marc Domage, La Panacée-MO.CO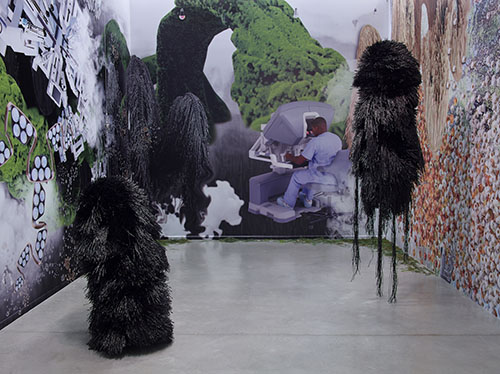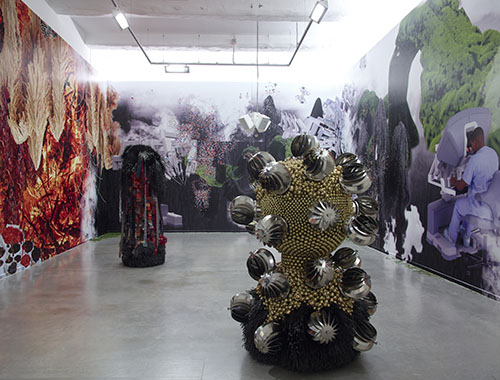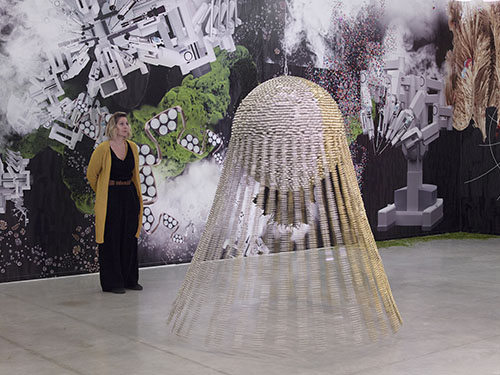 Installation view of Chronotopic Traverses, La Panacée-MO.CO, Montpellier, France, 2018
Video: Marc Domage, La Panacée-MO.CO, Studio Haegue Yang
Press release
Titled Chronotopic Traverses, the exhibition brings together unexpected arrangements to create an immersive and hybrid environment, in which seemingly unrelated or even oppositional elements, originating from different places and various times, are interwoven. Through this weaving, Chronotopic Traverses composes an immersive journey, juxtaposing and merging contradiction to reveal the complexities of common knowledge and phenomena beyond our seeming grasp of reality around us.
 
An accompanying program including film screenings, a lecture, and a musical performance of works by the late Korean composer Isang Yun (1917–1995), will provide insight into Yang's underlying artistic consciousness and concerns. In addition, La Panacée-MO.CO will release a publication, which not only documents the exhibition, but also examines Yang's murals and wallpapers as unique, yet lesser-explored categories of her oeuvre. Of the same title as the exhibition, Chronotopic Traverses will be launched at the artist talk on Wednesday, 19th December. Please contact La Panacée-MO.CO for pre-orders.
Populated by creature-like sculptures, the inhabited landscape of Chronotopic Traverses unfolds across three rooms at La Panacée-MO.CO, with a wallpaper, Incubation and Exhaustion (2018, in collaboration with Studio Manuel Raeder) rendering the entire wall surface of the space. This hybrid and panoramic environment is a result of Yang's initial investigation of Occitan culture and local industries as well as her long-lasting interest in pagan culture and the notion of folk. However, in this exhibition, the selection of motifs reveals an eclectic array of elements, varying from onion, garlic, and chilies to robotic medical devices, as well as graphically-manipulated green to flame and cloud. Arranged and juxtaposed in an unexpected manner filled with a sense of foreboding, all the natural and technological elements refer to time as flux, forsaking order and compartmentalized readings of terms such as folkloric, historic, modern, and contemporary. This very aspect of non-hierarchy and anachronism in Yang's approach reflects her interest in notions of place and time as a conglomerate, while simultaneously retaining the possibility for one to do a close reading of each element and their distinctive contexts, engaging in Yang's own process of learning and unlearning.
 
This environment, rendered by Incubation and Exhaustion, is populated and inhabited by sculptures appearing as creatures due to their human scale. Conceived in various sculptural modalities – free-standing, suspended and dragged on the floor on casters – they evoke the quality of timeless accessories, which could be seen as vestiges of the incubation or exhaustion of life or even as organic substitutes for the human presence.
In the first room, three newly-created sculptures are on view: The Intermediate – Dangling Hairy Hug (2018), The Intermediate – Dragged Hairy Hug (2018), and Sonic Rampant Obscure Turbine Vents, Double Decker – Bushy Feet (2018). The ensemble's almost fetish aspect of blackness dominates, in contrast to the bright background of wallpaper with numerous garlic and onions. The second room presents two groups of sculptures, Macramé Sculptures and Sonic Moons. The surfaces of three suspended Sonic Half Moons are covered by brass and silver plated bells, arranged to divide the spheres into different sectors, with tentacle-like long bell chains hanging down all the way to the floor. Acting as lunar objects, they seem to animate the space with their mesmerizing choreography of tentacles when set in motion by manually twisting the spheres. They are accompanied by three craft-based Macramé Sculptures displayed on clothing racks, collectively titled Knotty Spells. The labor-intensive production of knotting is central for this sculptural series on casters, ornamented by diverse decorative objects, such as bells, dried tropical exotic fruits or seed pods, as well as vintage jewelry from Morocco.
 
Finally, the third space presents two sculptures, The Intermediate – Running Squeezed Two-tone Fan Dance (2016) and The Intermediate – Occitanian Vagabond (2018). Created as part of the series of sculptures titled The Intermediates, which employ weaving or planting of synthetic straw as the primary method, the materials and arrangements of each sculpture evoke different dynamics and references. The whirling formation as well as patchy textiles refer to a figuration of pagan or folk rituals to ward off evil spirits by leaning on a projection of supernatural power, as commonly observed across various cultural topologies.
 
Since they possess a form that is difficult to control, Yang's Intermediates relativize realism – or pure observation, if such a thing exists. They position themselves as a mediation not only between our form and theirs, between our projection onto them and their potential to be something beyond artworks, but also between modernity – and its corresponding ideas on perception and autonomy – and an era that I will call "metabolic". Therefore, they also mediate between Western and non-Western cultural worlds.
Chus Martinez, "Nature Loves to Hide – On Haegue Yang", In: Yilmaz Dziewior, Haegue Yang: ETA 1994–2018, Verlag der Buchhandlung Walther König, Cologne 2018.
 
Chronotopic Traverses takes its last leap by introducing non-materialistic elements, such as sound and spice, as well as a chronology in the corridor. A Chronology of Conflated Dispersion – Duras and Yun (2018)is a merged biography of two historical figures: the French writer Marguerite Duras and the Korean composer Isang Yun. It is a straightforward text narration of alternating biographical as well as some insightful historical facts on a long stretched panel. Though the artistic biographies are without historical or personal connections, both run  dramatically alongside the sequences of colonialism, the Cold War, as well as various social ruptures and political conflicts. Together with sound from the suspended speakers arranged in a formation of 4 or 5, a seeming dichotomy is presented between allusion and fact. The sound elements consist of two recordings: one is a sound collection of approximately 12 birds from an open database, and the other features sounds from the same bird types, yet is a specific recording from the historic inter-Korean summit in the DMZ (demilitarized zone between the two Koreas) in April this year. The recording, of approximately 30 minutes long, from the lush natural surroundings of the DMZ refers to the tea break when the two leaders from both Koreas sat down at the end of the footwalk bridge without any press or accompanying delegation around. All that the gathered world press could capture from far away was nothing but camera clicks, their own footsteps, and birds singing in the DMZ. By presenting both sound recordings, Yang presents a parallel between fact itself and its possible readings.
Exhibition program
Talks:
• Artist Talk by Haegue Yang
With the launch of the publication Chronotopic Traverses, December 19th
• Presentation on Isang Yun by Guilherme Carvalho, November 22, 2018
Concert:
• Concert by Guilherme Carvalho, November 22, 2018
• Musician: Guillerme Carvalho, composer and cellist, musicologist, and lecturer at the University Paul Valéry
Film program:
Films on the themes of diaspora and dispersion with a focus on Asia, the political situation in North and South Korea, and stories of migration
• Transit (2018, 101 min., German) by Christian Petzold, December 13, 2018
• The Woman, The Orphan, and The Tiger (2010, 72 min., English) by Jane Jin Kaisen, November 15, 2018
• India Song (1975, 115 min., French with English subtitles), October 18, 2018
Exhibited works
The Intermediate – Dragged Hairy Hug, 2018
The Intermediate – Dangling Hairy Hug, 2018
The Intermediate – Occitanian Vagabond, 2018
Sonic Rampant Obscure Turbine Vents, Double Decker – Bushy Feet, 2018
Incubation and Exhaustion, 2018
A Chronology of Conflated Dispersion – Duras and Yun, 2018
Carsick Drawing – Toward Huu Nghi and Youyiguan #1, 2, 2016
Catalog