Follies, Manifold: Gabriel Lester – Haegue Yang
September 23 – November 23, 2014
Bonner Kunstverein, Bonn, Germany

Installation view of Follies, Manifold, Bonner Kunstverein, Bonn, Germany, 2014
Photo: Simon Vogel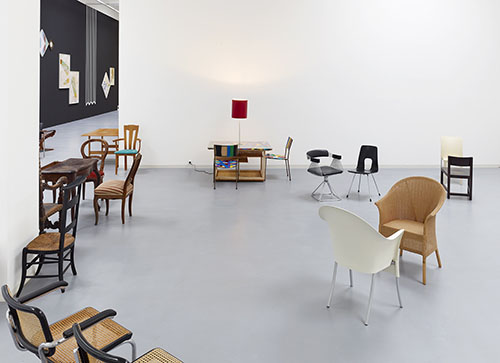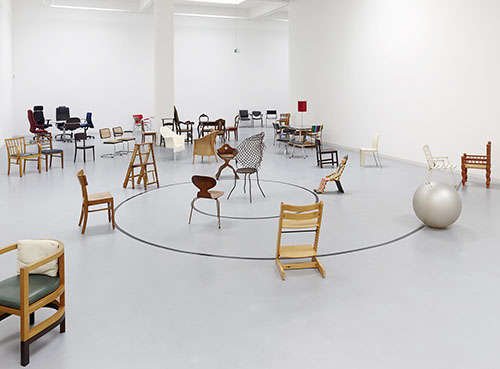 Installation view of Follies, Manifold, Bonner Kunstverein, Bonn, Germany, 2014
Video: We own you production
Press release
"Folly", a term borrowed from landscape architecture, refers to an eccentric or historicizing garden device, a small structure serving no purpose other than to animate the landscape and activate fantasy within the viewer. In the exhibition FOLLIES, MANIFOLD: GABRIEL LESTER – HAEGUE YANG, two artists have been brought together who — via this architectural element — deal in their installations with forms of the theatrical and the activation of the viewer in space. Both artists continually return to experimental formats that challenge the conventions of exhibition configuration and take on the theme of installation in relation to theater and cinema. In their exhibition at the Bonner Kunstverein, Lester (* 1972, lives in Amsterdam) and Yang (* 1971, lives in Berlin and Seoul) present two expansive installations that, next to their visual, tactile and acoustic qualities, also incorporate participatory elements.
(...)
While Lester's work departs from the cinematic, Yang's work is rather rooted in sculpture. The procedural — highlighting movement and instability — is a central issue for her. Her works often consist of everyday objects like ventilators, hanging racks or window blinds, installation elements programmed to move or that suggest the possibility of movement. In the Kunstverein, Yang presents her latest installation deriving from her years-long engagement with Oskar Schlemmer's "Triadisches Ballett" (1922). Aligned with the spirit of his times, Schlemmer produced ballet costumes that limited the dancers' movements, making them appear mechanical. In her installation "Boxing Ballet" stand five "Sonic Figures" formed after Schlemmer's costumes. The figures stand within a scenic stage of collages, lines on the floor and colored walls. Here, the viewer is invited to not only walk amidst these life-size puppets but also to move them himself, resultantly creating new compositions in space. Yang's "VIP's Union" is presented in the other half of the exhibition hall: this work follows a concept that can be repeated in almost any city, in each case as different as each city's dynamic is unique. It comprises tables and chairs borrowed from people who within their work are "movers" — impacting change and contributing in one way or another to social progress. In her particular selection of place-holding tables or chairs from a diverse range of fields of activity (including science, sports, business, politics and social issues, amongst others), the artist emphasizes the innovative force of the city's residents, their presentation suggesting a temporary society within the exhibition.
Following a trajectory laid down in the 1960s concerning Minimalist art and the concept of "theatricality" (Michael Fried), in recent years the interest in participatory models in art and the renewed questioning and rethinking of the role of the spectator has grown strongly in emerging art scenes. As it has now become quite common for sculpture to adopt aspects of the theatrical, a younger generation of artists increasingly offers the exhibition visitor the role of the key player, or at least that of an important protagonist. In this context, the exhibition FOLLIES, MANIFOLD aims to allow the spectator to understand his position as an active subject, thereby becoming a part of the scenographic apparatus.


Exhibited works