Non-Indépliables, nues
2010/2020
Non-Indépliable, nue – Strive and Stake Yellow
2018
Drying rack, powder-coated aluminum, casters, light bulbs, cables, zip ties, terminal strips, metal rings, metal chains, coins, pill boxes, USB car charger, audio splitters
148 x 48 x 67 cm
Courtesy of kurimanzutto, Mexico City
Photo: Studio Haegue Yang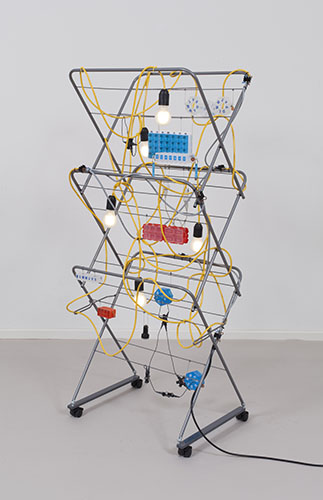 Non-Indépliable, nue – Strive and Stake Orange
2018
Drying rack, powder-coated aluminum, casters, light bulbs, cable, zip ties, terminal strips, elastic cord with metal hooks, metal rings, metal chains, metal clips, coins, tissues, pill boxes, bolts, nuts, washers
148 x 50 x 68 cm
Courtesy of Galerie Barbara Wien, Berlin
Installation view of Galerie Barbara Wien booth, Art Basel, Basel, 2018
Photo: Ketty Bertossi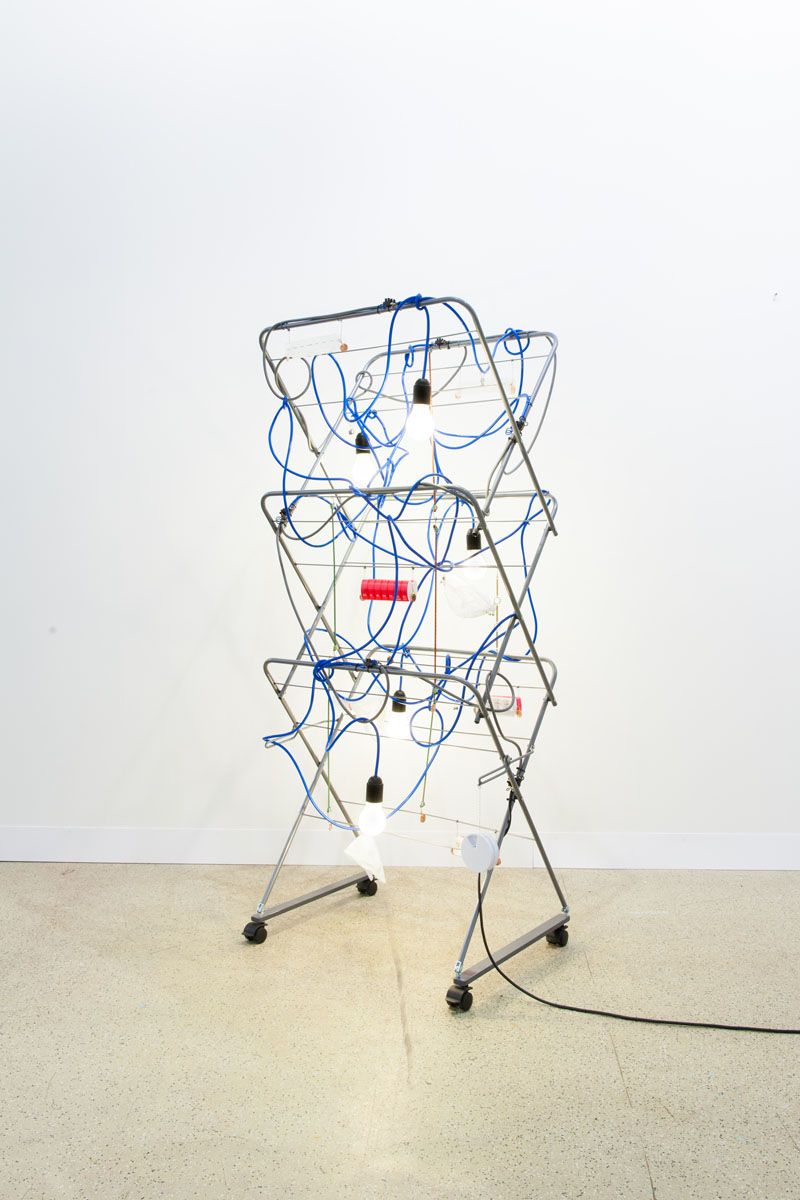 Non-Indépliable, nue – Strive and Stake Blue
2018
Drying rack, powder-coated aluminum, casters, light bulbs, cable, zip ties, terminal strips, elastic cord with metal hooks, extension springs, metal rings, metal chains, bells, safety pins, coins, tissues, pill boxes, bolts, nuts, washers
148 x 58 x 71 cm
Courtesy of Galerie Barbara Wien, Berlin
Installation view of Galerie Barbara Wien booth, Art Basel, Basel, 2018
Photo: Ketty Bertossi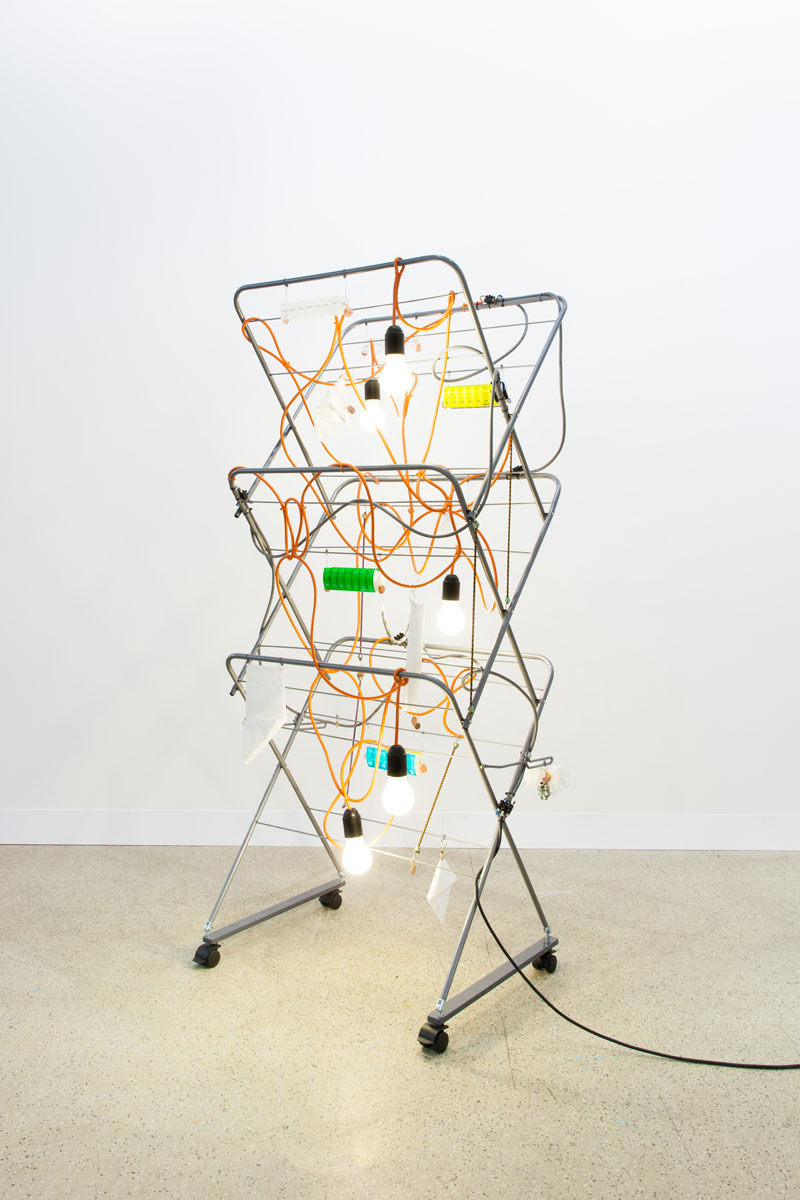 Non-Indépliable, nue – Three Hearts Lifts a Sprout
2010

Drying racks, casters, light bulbs, cable, zip ties, terminal strips

191 x 143 x 60 cm
Courtesy of the artist
Installation view of Intro Motion Ditch at S1 Artspace, Art Sheffield, Sheffield, UK, 2010
Photo: S1 Artspace
Non-Indépliable, nue – Three Times on Shoulder
2010

Drying racks, casters, light bulbs, cable, zip ties, terminal strips

278 x 189 x 59 cm
Courtesy of the artist
Installation view of Intro Motion Ditch at S1 Artspace, Art Sheffield, Sheffield, UK, 2010
Photo: S1 Artspace
Non-Indépliable, nue – Crowny Figure in Crossed Leg
2010

Drying racks, casters, light bulbs, cable, zip ties, terminal strips

175 x 102 x 87 cm
Courtesy of the artist
Installation view of Intro Motion Ditch at S1 Artspace, Art Sheffield, Sheffield, UK, 2010
Photo: S1 Artspace
Non-Indépliable, nue – Lifting Up
2010

Drying racks, casters, light bulbs, cable, zip ties, terminal strips

177 x 122 x 75 cm
Courtesy of the artist
Installation view of Intro Motion Ditch at S1 Artspace, Art Sheffield, Sheffield, UK, 2010
Photo: S1 Artspace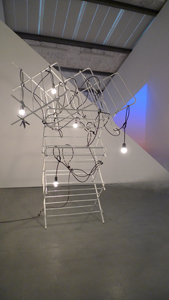 Non-Indépliable, nue – Sandwich Swing Squeezed Between Buildings
2010

Drying racks, casters, light bulbs, cable, zip ties, terminal strips

125 x 118 x 109 cm
Courtesy of the artist
Installation view of Intro Motion Ditch at S1 Artspace, Art Sheffield, Sheffield, UK, 2010
Photo: S1 Artspace
Installation view of Intro Motion Ditch at S1 Artspace, Art Sheffield, Sheffield, UK, 2010
Photo: S1 Artspace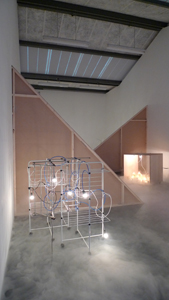 Excerpt from exhibition guide of Double Soul, SMK – Statens Museum for Kunst, Copenhagen, Denmark, 2022
For Yang, the drying rack is a metaphor encapsulating life as it unfolds in our day-to-day existence involving the basic activities associated with ordinary household chores: cooking, cleaning and doing laundry. Seemingly mundane objects and common appliances in our homes become expressions of complex processes that shape our lives. Many of Yang's works focus on domestic spaces, such as the kitchen and bathroom, as well as appliances like radiators, gas stoves and laundry machines, addressing the practicalities and rituals involved in making and keeping a home.
The drying rack is a practical device that is usually folded up and stored away when not in use. In setting up the drying racks, Yang transforms the humble objects into expressive figures in their own right. Many of them are pieced together to constitute distinctive poses: of piggybacking, acrobatic balancing or supporting, etc. Even though the racks look fragile and bare, they nevertheless refuse their original minor status of being folded away (the French title of the works translates to 'non-foldable, nude'). Instead, they are now part of a sculptural alliance with luminous light bulbs mounted on long cables.
The light bulb and the electric cable often appear in the so-called Light Sculptures, as evidence of the invisible flow of energy many devices are connected to. However, illumination also becomes a crucial symbol of communication and interrelations between these unremarkable objects and the larger contexts that surround them.
Exhibition history
Double Soul, SMK – Statens Museum for Kunst, Copenhagen, Denmark, 2022
Strange Attractors, Tate St Ives, St Ives, UK, 2020
Intro Motion Ditch at S1 Artspace, Art Sheffield, Sheffield, UK, 2010
| | |
| --- | --- |
| back to alphabetical order | back to chronological order |