21st Biennale of Sydney, Superposition: Art of Equalibrium and Engagement
March 16 – June 11, 2018
Museum of Contemporary Art Australia, Sydney,  Australia    
Installation view of Superposition, Biennale of Sydney, Museum of Contemporary Art, Brisbane, Australia, 2018
Photo: Studio Haegue Yang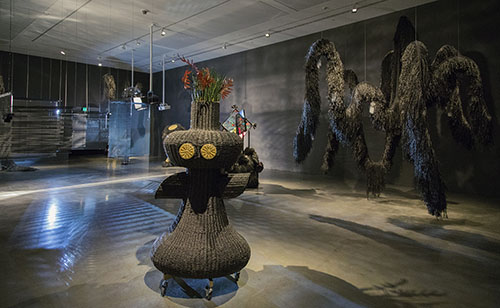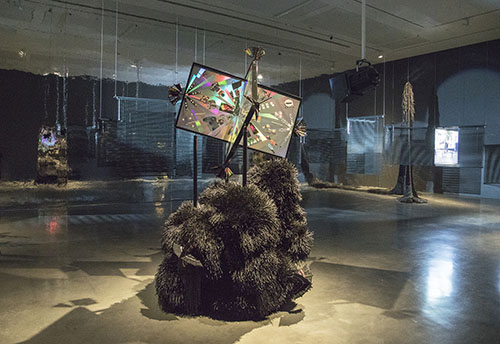 Installation view of 21st Biennale of Sydney, Superposition : Art of Equalibrium and Engagement
Museum of Contemporary Art Australia, Sydney,  Australia   
Video: Studio Haegue Yang
Press release
In Sydney, Yang presents a multi-part installation combining three bodies of work from different periods of her versatile oeuvre. Three formative video essays called Video Trilogy (Unfolding Places, Restrained Courage, and Squandering Negative Spaces), 2004–06, are embedded in a venetian blind installation with scent emitters and moving lights entitled Lethal Love, 2008. The installation is also accompanied by a series of anthropomorphic sculptures and three ebony-black suspended sculptural creatures that resemble subaquatic or giant arthropods, creating a multisensory and perceptually challenging environment.
Based on the life of German politician and activist Petra Kelly and her companion and comrade Gert Bastian, who shot Kelly in her sleep in 1992 and killed himself thereafter, Lethal Love informs a critical reading of their historical lives. The domestic fitting of the suspended venetian blinds serves an allegorical function by evoking a separation as well as penetration between the private and public, while also creating a self-contained environment with expanding branches emerging from a mirror wall. Moving lights navigate, rotate and bleed through the blinds' slats and cast shadows, while the evocatively named scent products of 'Wildflower' and 'Gunpowder' fill the air. Sitting within Lethal Love, the subjective and contemplative narratives of homelessness and displacement of Video Trilogy overlap with the now unlearned and therefore muted stories of the historical figures in Lethal Love.
Yang's straw sculptural series, The Intermediates (2015–ongoing), takes its name from the ubiquity of straw weaving across cultures and the mediating role of straw. Despite the use of industrially manufactured materials, such as synthetic straws, bells, metal rings and turbine vents, the sculptures recall folk handicrafts or ritualistic effigies of ancient civilisations and appear to be part of a remote, yet intimate community.
With her idiosyncratic use of materials, Yang initiates a movement between the historic and universal, inviting us on a journey that oscillates between abstraction and narration. Lethal Love's atmospheric and metaphoric interplay shifts from illuminating a story to obscuring its narrative through abstraction for an equally provocative and contemplative encounter.
Exhibited works
Umbra Creatures by Rockhole, 2017-2018
Squandering Negative Spaces, 2004