Umbra Creatures by Rockhole
2017–2018
Installation view of Double Soul, SMK – Statens Museum for Kunst, Copenhagen, Denmark, 2022
Photo: Jan Søndergaard and Anders Sune Berg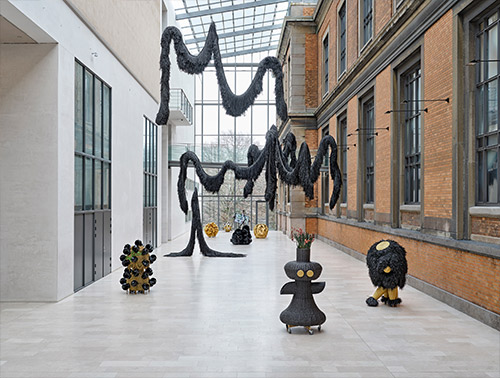 Installation view of Superposition, Biennale of Sydney, Museum of Contemporary Art, Brisbane, Australia, 2018
Photo: Studio Haegue Yang
Installation view of 21st Biennale of Sydney, Superposition : Art of Equalibrium and Engagement
Museum of Contemporary Art Australia, Sydney,  Australia   
Video: Studio Haegue Yang
Sonic Rampant Obscure Turbine Vents, Double Decker – Brass Green
2017

Powder-coated steel frame, powder-coated mesh, casters, powder-coated turbine vents, brass plated bells, metal rings, artificial plants

167 x 118 x 118 cm

Courtesy of kurimanzutto, Mexico City / New York

Photo: Studio Haegue Yang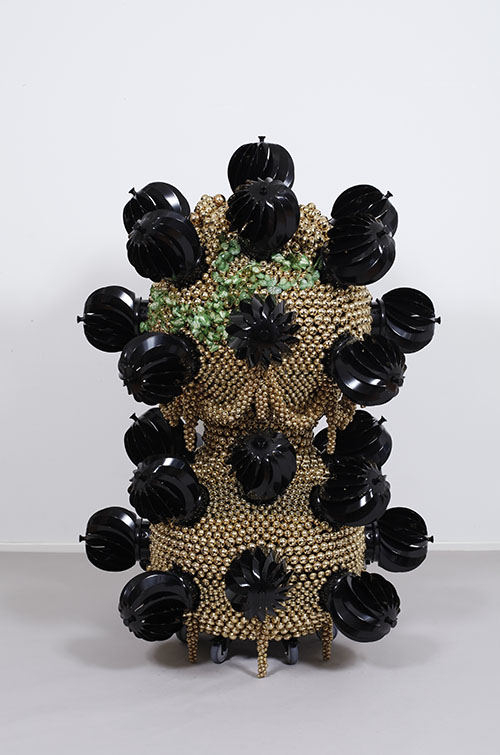 The Intermediate – Hairy Tele Digi-Big-Bang Fanned Out
2018

Powder-coated steel frame, powder-coated mesh, casters, plastic twine, jute twine, nylon cord, clippings from electronics market catalogues on chromolux paper, mounted on alu-dibond, self-adhesive holographic vinyl film, acrylic glass

230 x 140 x 140 cm

Courtesy of kurimanzutto, Mexico City / New York

Photo: Studio Haegue Yang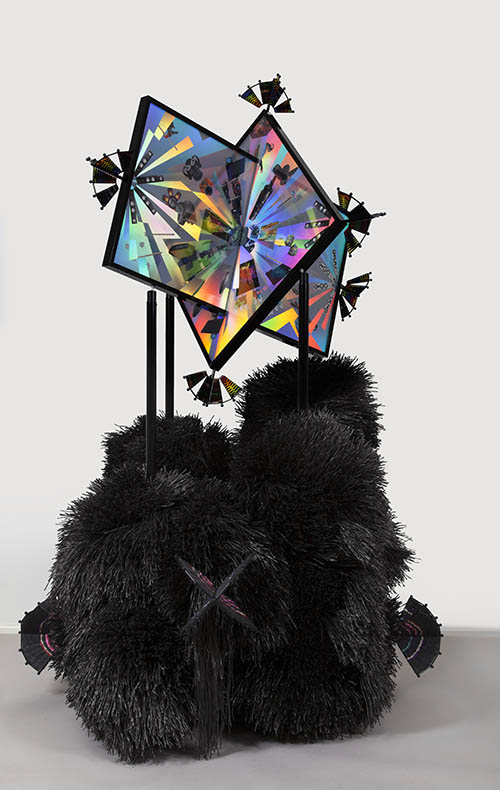 The Intermediate – Head Carrying Woman
2017

Artificial straw, powder-coated steel stand, casters, plastic twine, artificial plants

234 x 108 x 110 cm

Courtesy of kurimanzutto, Mexico City

Photo: Studio Haegue Yang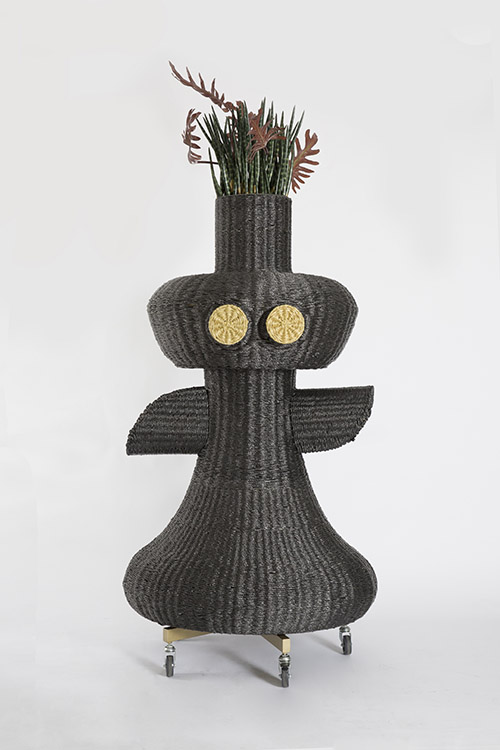 The Intermediate – Tinted Asymmetric UHHHHH Creature W
2017

Powder-coated stainless steel hanging structure, powder-coated stainless steel frame, steel wire rope,
plastic twine

349 x 430 x 25 cm

Courtesy of kurimanzutto, Mexico City

Photo: Studio Haegue Yang
The Intermediate – Tinted Bushy Bald-headed Bumpy Walks
2017

Artificial straw, powder-coated steel stand, casters, plastic twine

180 x 110 x 110 cm

Courtesy of kurimanzutto, Mexico City

Photo: Studio Haegue Yang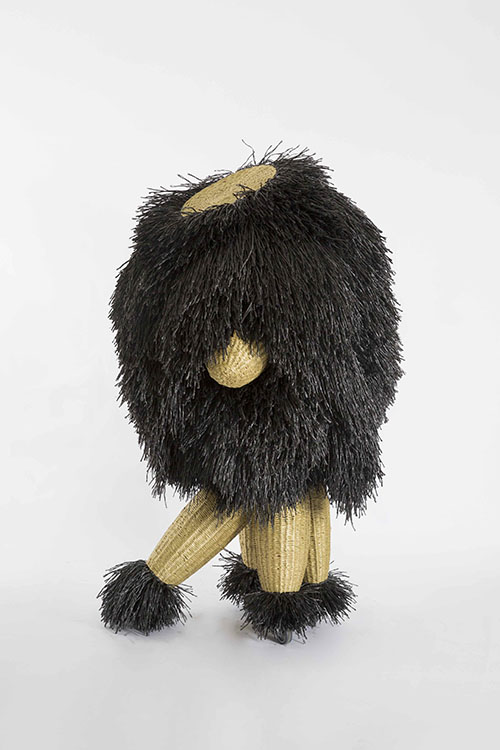 The Intermediate – Tinted Multi-Tentacled Serpent
2017

Powder-coated stainless steel hanging structure, powder-coated stainless steel frame, steel wire rope,
plastic twine, Bupo

390 x 390 x 300 cm

Courtesy of kurimanzutto, Mexico City

Photo: Studio Haegue Yang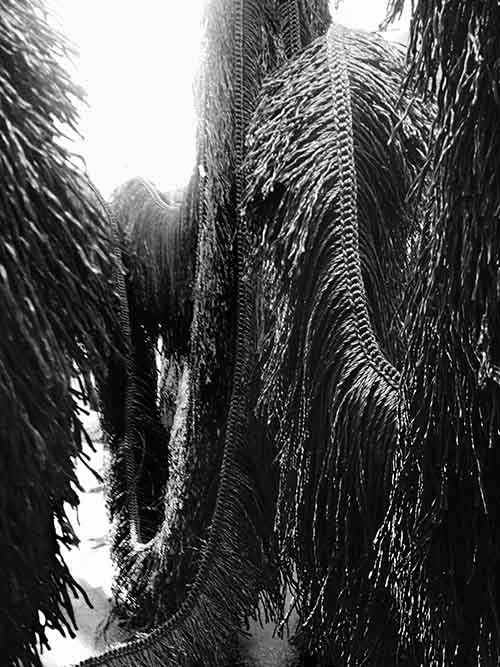 The Intermediate – Tinted UHHHHH Creature Inverted V
2017

Powder-coated stainless steel frame, steel wire rope, plastic twine

360 x 400 x 180 cm

Courtesy of kurimanzutto, Mexico City

Photo: Studio Haegue Yang
Excerpt from exhibition guide of Double Soul, SMK – Statens Museum for Kunst, Copenhagen, Denmark, 2022
The sculptural installation Umbra Creatures by Rockhole consists of seven sculptures, including six entitled 'Intermediate' and followed by individual subtitles. In this large sculptural ensemble, a range of cultural traditions and techniques, imaginative and fantastic figurations, modern synthetic materials and objects are combined to form a hybrid totality. Residing in both Korea and Germany since the mid-1990s, Yang's life seems to traverse cultures, and she considers her works as nothing but vital manifestations of today's complex and compelling cross-cultural experiences. While the early Intermediate series are made of natural-looking artificial straw on basic geometric frames in an obvious reference to traditional straw weaving, the Umbra Creatures employ black synthetic cords with a fetish-like shine, freeing the material from its folk connotations, and are adorned with eccentric features. This shift in method and material is characteristic of Yang's work and acts as a way to unlearn a self-established rule.
The Umbra Creatures collectively allude to the shadow creatures poised between the alienating and the familiar. Some, like many of Yang's sculptures, are on casters, while others hang from the ceiling like a giant serpent or extend their tentacles and reach out like a sea animal. A figurative body features artificial plants, while another hairy body is crowned with a double-sided screen of collages in a kaleidoscopic composition with electronic store cata- logue clippings as well as holographic vinyl film. The last metallic work, a Sonic Sculpture, is (hysterically) covered by golden bells and turbine vents, as an ivy grows.
The word 'intermediate' incubates the idea of 'medium', implying a connec- tion of separate parts, times or dimensions. Considering the artist's interest in shamanism, the idea of 'intermediate' is significant, since it reflects how a shaman mediates between different worlds, things and minds. It can also be applied to the sculptures' materiality of products and commodities in need of further processing. Both associations underscore Yang's fascination with processes of mediation, translation, adoption and exchange.
Exhibition history
Double Soul, SMK – Statens Museum for Kunst, Copenhagen, Denmark, 2022
Arts ⇆ Crafts. Between Tradition, Discourse and Technologies, Austria, 2019
Triple Vita Nestings, Institute of Modern Art, Brisbane, Australia, 2018
Superposition, Biennale of Sydney, Museum of Contemporary Art, Brisbane, Australia, 2018
| | |
| --- | --- |
| back to alphabetical order | back to chronological order |