VIP's Union – Phase I
June 23, 2017 - Jaunary 28, 2018
All over the Kunsthaus Graz
Installation view of VIP's Union – Phase I, Kunsthaus Graz, 2017-2018
Photo: Universalmuseum Joanneum/ N. Lackner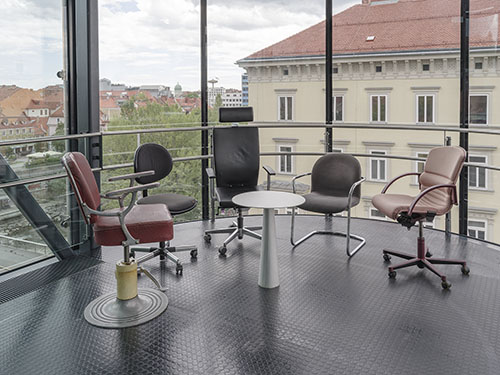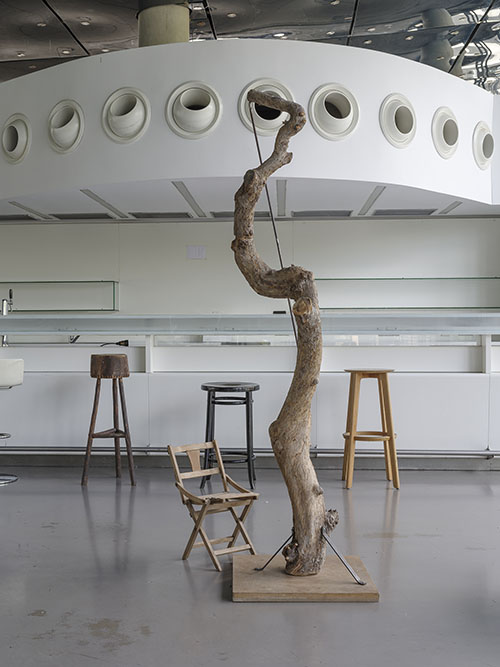 VIP's Union – Phase II, Surrender
February 15 - April 2, 2018
Space02, Kunsthaus Graz
Installation view of VIP´s Union – Phase II, Surrender, Kunsthaus Graz, Austria, 2018
Photo: Universalmuseum Joanneum/ N. Lackner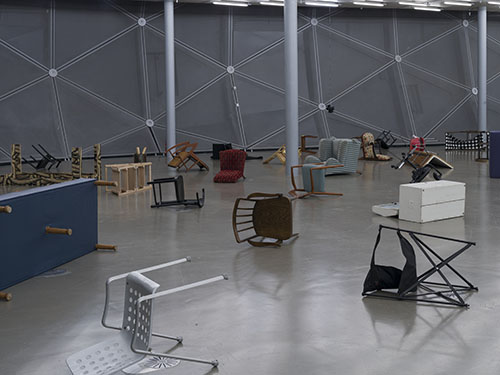 Installation view of VIP´s Union – Phase II, Surrender, Kunsthaus Graz, Austria, 2018
Video: Alexandra Trost
Press release
How do you become a VIP, a "very important person"? Who is one? Heads of state, politicians, actors, football stars? The Korean artist Haegue Yang began her VIP's Union series in 2001. Now her work is being specially adapted for Graz.
As its starting-point, "very important persons" from the city and region are asked to provide a chair or table of their choice for a "VIP Room". The Kunsthaus Graz decided to invite persons who are important for them – that is, people who have a close relationship to the institution in very different ways. So, for example, furniture has been lent by subsidy providers and representatives of the institution's regulatory bodies, by the Universalmuseum Joanneum's board of trustees and directorate, as well as political decision-makers such as the mayor of the city of Graz, the minister for culture and the city councillor for culture, together with artists, collectors, partners and private supporters of the Kunsthaus. In this way a collective portrait of the Kunsthaus emerges, blended from many different individual elements. As an expression, each item is different and the loan is based on the generosity of those involved.
Arranged by the artist, the presentation of VIP's Union consists of two phases. Firstly – from June 22nd 2017 – the furniture will be on show throughout the building. The "VIP Room" is transformed into a space which can be used not just by a few VIPs, but is open to all visitors. In the second phase, from February 15th to April 2nd 2018, an exhibition in Space02 and a catalogue edition will conclude the project. VIP's Union in Graz is connected with earlier presentations from this series, realised in Berlin, Bristol, Antwerp, Bonn and Seoul. It is the portrait of a cultural landscape of each place, both abstract and yet also very concrete, since it displays a range of tastes and ideas about "very important persons" and maps their connection with each of the cultural institutions as a potential community.
VIP´s Union at Kunsthaus Graz followed mutations of the project at Art Forum Berlin (2001), Arnolfini, Bristol (2011), M HKA – Museum of Contemporary Art Antwerp (2014), Bonner Kunstverein, Bonn (2014), and Leeum, Samsung Museum of Art, Seoul (2015). A genealogy; reference projects; texts by Nav Haq, Kathrin Bucher Trantow, and Barbara Steiner; and an interview with Haegue Yang provide multiple views on the nature and evolution of the project over the years. An accompanying book Haegue Yang: VIP's Union 2001 – 2018 is printed on the occasion of the nine-month presentation of VIP´s Union at Kunsthaus Graz.
Exhibited works
Catalog