ETA 1994-2018
April 18 - August 12, 2018
Museum Ludwig, Cologne, Germany

Installation view of Haegue Yang: ETA 1994–2018. 2018 Wolfgang Hahn Prize, Museum Ludwig, Cologne, Germany, 2018
Photo: Museum Ludwig, Saša Fuis, Cologne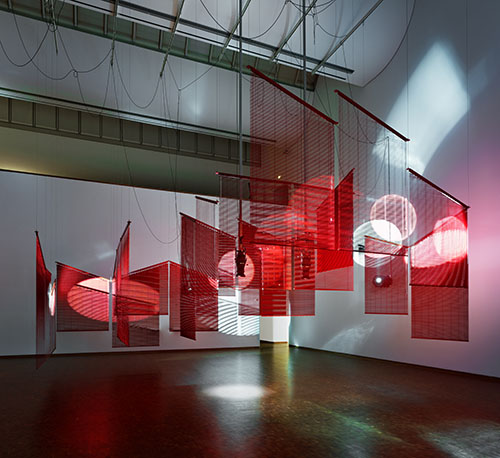 Video: Studio Haegue Yang
Press release
In 2018, the Gesellschaft für Moderne Kunst am Museum Ludwig will recognize Haegue Yang for her extraordinary body of work with the Wolfgang Hahn Prize. The Museum Ludwig will showcase the remarkable versatility of her entire oeuvre in the artist's first-ever survey exhibition with over 120 works ranging from action-based objects from the 1990s to lacquer paintings, photographs, works on paper, video essays, anthropomorphic sculptures, performative pieces, and large-scale installations.
The abbreviation ETA stands for "estimated time of arrival," among other things. Thus, the exhibition title points to an artistic career in transit and the constant itineracy of an artist who maintains studios in Seoul and Berlin and has exhibited internationally since 1994.
The exhibition will begin with Yang's first venetian blind installation from her 2006 Series of Vulnerable Arrangements—the 2006 Version Utrecht, an immersive and sensorial experience unfolding from a composition of various materials and the simultaneous use of wind, scents, light, and heat. Within this arrangement, video essays document the artist's travels through cities around the world and convey feelings of home, isolation, and dislocation associated with her itineracy in quite personal commentaries.
One of the first rooms will feature early and in some cases reconstructed works that reveal Yang's examination of Western art history from Duchamp to Fluxus and tendencies of Institutional Critique as well as the then-current Context Art. As in her first few exhibitions in the 1990s, these works will be staged or ironically shown in display cases, like in an archive.
A central part of the exhibition is Storage Piece. This key work was created in 2004 out of financial need and an acute lack of space as a collection of packaged works on shipping pallets. The work has since been exhibited in several configurations, and its arrangement will also change at regular intervals in the Cologne exhibition—a reflection of Yang's consideration of transitory states. Furthermore, it was an important contribution to Conceptual Art in the mid-2000s, as well as a striking commentary on a rapidly changing art market and the increasing commodification of art.
 
Yang's well-known anthropomorphic light sculptures will be represented in the exhibition with the Medicine Men series from 2010, among other works. These consist of a variety of materials: functional and industrially manufactured everyday objects such as clothing racks, light bulbs, electric cables, and party wigs. Yang herself refers to these sculptures as "shamans" or "transvestites," thus pointing to the ambiguous gender and social roles that medicine men take on in nature religions. They also pose questions of exoticism and cultural identity which run throughout Yang's work.
Yang will also continue her series VIP's Union (2001–) with a version for Cologne. Well-known local figures—VIPs from different areas of society such as culture, sports, business, and politics—will be invited to lend their favorite chair or table for the duration of the exhibition. This collection of different pieces of furniture will portray the local society and its domestic preferences.
The twelve-meter-high DC Hall will feature two works consisting of blinds, Mountains of Encounter (2008) and Sol LeWitt Upside Down – K123456, Expanded 1078 Times, Doubled and Mirrored (2015). For the first time, two very different types of venetian blind installations will be juxtaposed in a single room: while Mountains of Encounter marked the beginning of a series of structurally complex compositions relating to historical events and personalities in Yang's oeuvre, Sol LeWitt Upside Down – K123456, Expanded 1078 Times, Doubled and Mirrored is based on a cubic structure by the Minimalist artist Sol LeWitt, which Yang not only physically expands, but also conceptually condenses, doubles, mirrors, and finally turns upside down.
With her diverse oeuvre, Yang adeptly avoids clear attributions. Her works demonstrate elements of Institutional Critique and are conceptual as well as rich in cultural and historical references, while simultaneously sensually complex and emotionally charged. Across over 1500 square meters of exhibition space, this comprehensive retrospective's spatial scenography will echo the conceptual dynamics of the works, lending the exhibition the quality of a Gesamtkunstwerk—harmonious yet full of dissonances.
Exhibition program
Talk:
• Introductory talk about Isang Yun by the music journalist Martina Seeber, June 24, 2018
Concert:
• Concert by the academy musicians of the Gürzenich-Orchester Köln, June 24, 2018
• Musicians: Marie Tetzlaff (oboe), João Miguel Silva (oboe), Francesca Fiore (violoncello), Vincent Royer (viola), Clara Zschocke (viola), Anneleen Schuitemaker (harp)
• Ost-West-Miniatur I for oboe & cello (1994), 6', Ost-West-Miniatur II for oboe & cello (1994), 5', Contemplation (1988), 11', Duo for Cello and Harp (1984), 13', Piri for oboe solo (1971), 11'
Film program:
Documentary film evening, June 24, 2018:
• Isang Yun – INBETWEEN North and South Korea by Maria Stodtmeier (2014, 60 min., multilingual with German subtitles
• November-Elegie: Isang Yun in memoriam (rbb-broadcast, 1996, 59 min., German)
• Wege zur neuen Musik: Gesprächskonzert mit dem Komponisten Isang Yun (rbb-broadcast, 1992, 63 min., German)
Films on the themes of diaspora and dispersion with a focus on Asia, the political situation in North and South Korea, and stories of migration:
• Dear Pyongyang (2005, 107 min., Japanese and Korean with English subtitles) by Yang Yong-hi, July 22, 2018
• A Journey to Primo Levi – The Legacy of an Auschwitz Survivor (2003, 90 min., Japanese with English sub- titles) by Hideya Kamakura, July 15, 2018
• Koshikei (Death by Hanging, 1968, 188 min., Japanese with English subtitles) by Nagisa Ôshima, June 17, 2018
• Strange Meetings (2017,
11 min., English), May 27, 2018
• The Woman, The Orphan, and The Tiger (2010, 72 min., English) by Jane Jin Kaisen, May 27, 2018
• India Song (1975, 115 min., French with English subtitles), May 13, 2018
• Son nom de Venise dans Calcutta désert (1975, 120 min., French with English subtitles) by Marguerite Duras, May 13, 2018
Exhibited works
The Wind Does Not Have Arms, 2015/2018
Series of Vulnerable Arrangements – Version Utrecht, 2006
Squandering Negative Spaces, 2006
A4 / A3 / A2 Whatever Beings, 2006–2007
Unpacking Storage Piece, 2007/2018
Quasi MB – In the Middle of Its Story, 2006–2007
Traces of Anonymous Pupil Authors, 2001
Science of Communication – A Study on How to Make Myself Understood, 2000
Social Conditions of the Sitting Table, 2001
The Malady of Death, publications, 2008, 2015
Macaroni (Candele Lunghe), 1995/2017
Blond Hair/Black Hair (Dyed), 1995/2017
Tray with Landscape, 1995/2017
Anatomy of the Pasta, 1995/2017
IKEA Cup as a Self-Portrait,1995/2018
Long Life / Bad Life, 1995/2017
Roll Cosies – Cash Register Rolls, 50 Meter, 2012
Practicing Profession, minus 2002 #1, 2, 2002
Bottle with Pasta above the Door, 1995/2017
Dedicated Beauty #1, #2, #3, 2005
Doubles and Halves – Events with Nameless Neighbors, 2009
Series of Vulnerable Arrangements – Seven Basel Lights, 2007
Stone Dance – Angular Circular, 2010
Knotty Spell in Windy Acoustical Gradation, 2017
Sonic Rotating Geometries Type F – Copper and Nickel Plated #61, 2015
Hardware Store Collages, 2012–
Last Destination Brussels, 2004
Origami Dust – Side Effects and By-Products, 2004/2012
Sol LeWitt Upside Down –K123456, Expanded 1078 Times, Doubled and Mirrored, 2015
Three Kinds in Transition, 2008
Figurative Fall-Over, 2001/2018
Gymnastics of the Foldables, 2006
The Story of a Bear-Lady in a Sand Cave, 2009/2011
Catalog
Haegue Yang: ETA 1994-2018, catalogue raisonné
Haegue Yang: ETA 1994–2018, 2018 Wolfgang Hahn Prize